Other
I am a ISFJ. Introvert, Sensing, Feeling, Judging. (I can only remember the first letter most of the time. I am definately an introvert.)
My enneagram personality is 9w1. The Peacemaker, The Perfectonist.
My true-type wiring is 9-2-5. The Problem Solver.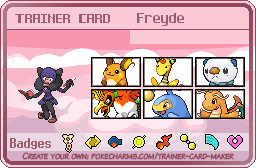 My Other Sites
thenightrune (main tumblr)
resetmyfeelings (manga panel sharing tumblr)
resetmyfeelings Tags
Backloggd
Listography
The Basics
You can call me "Freyde" since that's the nickname I use the most these days. Or "Amriel", I don't mind.
I'm a 35 year old hetrosexual female living in southern New Jersey, where I've lived all my life. Currently I have one pet, a orange cat named Big Frank.
I currently work part-time at a veternary clinic taking care of the boarders in the kennel (dogs) and hospital (cats, they get put there because there's usually no room in the kennel to hold a cat). Been working there about six years now and while it's a tiring job, it's the best job that I've had so far in my life.
I have very simple goals in life. I want (need) to move out of the house I'm living in at the moment, settle into a quiet home (house, apartment, trailer, treehouse - I don't care) and continue to work on improving my life. In a ideal world, I would adopt a dog or two as well but it's hard to find a place around here that accepts cats, much less dogs. 😕 Other goals I would like to achieve would be losing weight and becoming more active, volunteering at a animal shelter and making friends.
Likes
Dogs

I love learning and interacting with dogs and have had several dogs of my own in the past. I think they're amazing creatures and would love to spend the rest of my life working to take care of them. (See my job description above.) My favorite breed is the Newfoundland! If you want to learn more about my experiences in taking care of dogs, I've written (and will continue to write!) more anecedotes on this page.

Video Games

I've been playing video games since I was a little kid and will most likely be playing them until I die. My favorite genres are RPGs, simulation and strategy games. I don't care for platformers (because I'm awful at them) or action games (like first-person shooters - again, because I'm awful at playing them). I also love older retro games and will often replay games that I have to emulate instead of picking up a new game in my backlog to complete, oops.

Literature

Like video games, I've been in love with books since a child. The first book I completed was a Calvin and Hobbes comic strip compilation book, I forget which one though. I recently purchased a ebook reader and I love it - well, okay, I love the concept of a ebook reader but the one I purchased isn't the greatest (I refuse to buy a Kindle, Amazon sucks). I love reading all kinds of books! My favorite fiction genre would have to be realistic general fiction and my favorite nonfiction genre would be either reference books or memoirs.

Animals

Besides dogs, I enjoy interacting with the cats that come into my job for boarding - and of course my own cat! Other animals I love include capybara, manatees, beavers, and goats.

Coding

Back when I was in high school, I started my own blog on Wordpress and enjoying customizing it to my liking with HTML and CSS. Now that I'm getting back into the hang of coding as a adult, I find that it's really rewarding to make a website. Rewarding, but pretty frustrating at times.

Fandom

I love reading fanfiction and looking at fanart others make of my favorite series, especially if it's from one of the lesser known ones! I want to get into writing fanfiction but I'm very anxious about writing anything, let alone posting it.

Dreary weather

Although warm sunny days are great too, I adore overcast and rainy weather. Snow is great too, as long as I don't have to drive in it!
Dislikes
Cruelty

Self explanatory. Don't be a dick.

My Mental Illnesses

I have terrible social anxiety, even when I'm online. Hopefully by sharing more of myself on this website I can get comfortable in my own skin and shake off most of my fears when it comes to talking to people online. Who knows? I might get better at that over time. I also have depression and have suffered with it most of my life. As a result, I have next to no positive self image and put myself down a lot... often without even realizing it.

Phobias

Driving (see below), needles, heights, stink bugs, ticks. Snakes would be on that list but they're fine if I don't see them, same for daddy long legged spiders. I was going to put "sudden loud noises" on that list but is that a "phobia"?

Driving

I haaaaate driving and avoid it at all costs. I will even put off depositing a check in the bank to avoid the drive down there. Anywhere past my "comfort zone" (...which isn't very big) will take me days to convince myself to drive there and it'll be all that I think about in the meantime. Plus I have a smartcar that everyone in public just has to ask me about so I'm always worried about people I don't know yelling HEY IS YOUR CAR ELECTRIC (no) or HOW MANY MILES DOES IT GET TO THE GALLON (about 40) at me.

Summer

Not so much the heat but the tourists ("shoobies") that come down here and crowd up the place with their bad driving.
Favorites
Anime: Sailor Moon
Color: dark green
Cryptid: the Fresno Nightcrawler
Drink: vanilla coke
Fast food joint: Burger King
Food: pepperoni pizza
Ice cream flavor: chocolate chip cookie dough
Manga: Azumanga Daioh
Movie: The Color Purple
Movie genre: documentaries
Music genre: video game soundtracks
Novel: "She's Come Undone" by Wally Lamb
Podcast: Casefile
Pokemon: Raichu
Pokemon region: Johto
Pokemon type: Flying
Scent: lavender
Season: autumn
Song: "Somebody to Love" by Queen
Television show: The Simpsons, but seasons 1 to 9 only
Video game: Ogre Battle: Person of Lordly Caliber
Video game soundtrack: Chrono Cross
Random Facts
I have green eyes, even though they put "hazel" on my driver's license. 😐
I like watching game shows. My mother used to take a lot of pictures of me as a toddler watching shows like Press Your Luck or The Price is Right while in my playpen.
Speaking of my toddler self, I used to eat a LOT of spagetti as a child but now I don't like it at all.
And speaking of food! If I eat watermelon, I will puke. Not because I'm allergic but I once ate a large amount of watermelon at a birthday party when I was about 7 or 8 years old and threw up in the car on the way home. Ever since then, I've hated watermelon. That includes the scent of watermelon, but thankfully smelling it won't make me vomit.
I'm sure this is very common, but I always have Youtube playing in the background whenever I'm on my computer (which is 99% of my free time). If you're curious, I've listed some of my favorites in my Youtube Links page.